Sat Sarbat Kaur Khalsa (Olympia Revel)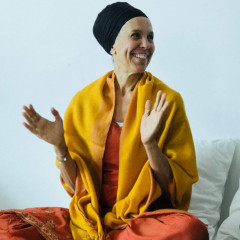 Sat Sarbat Kaur Khalsa (Olympia Revel)
+4369916007680
069916007680
I am a KRI certified Kundalini Yoga Mentoring Lead Trainer Level 1 and 2.
I worked for 25 years in the United Nations in the field of refugee programs, anti-drug and crime projects and in the Ombudsman office for conflict mediation.
In 1999 I started Kundalini Yoga and did Teacher Trainings Level 1 and 2, plus several other trainings to deepen my experience and knowledge: Sat Nam Rasayan Healing, Numerology, Conscious Pregnancy, and Children Yoga.
My husband, Satmukh Singh, and I offer KRI teacher trainings L1 and 2 in several countries in Asia, Australia and Europe, as well as a numerology training for consultants and the SunChild teacher training, a program based on the teachings of Yogi Bhajan to teach children and their parents how to reach harmony and happiness through consciousness and a yogic lifestyle.
We also offer private numerology consultations, live and online.
Our goal is mainly to spread the teachings and strengthen local communities, assisting local teachers to grow into their roles and responsibilities. We always look for ways to serve the broader KY international community as well.
Teacher Trainings
Studios/Centers
Teacher Certification


Trainer Designations
Level 1: Lead, Level 2: Lead, 21 Stages of Meditation: Lead
Teacher Specialties
Children, Mantras & Naad, Meditation, Pre & Postnatal, Sikh Dharma, Women
Speaks:
English, French (Français), German (Deutsch), Italian (Italiano), Spanish (Español)