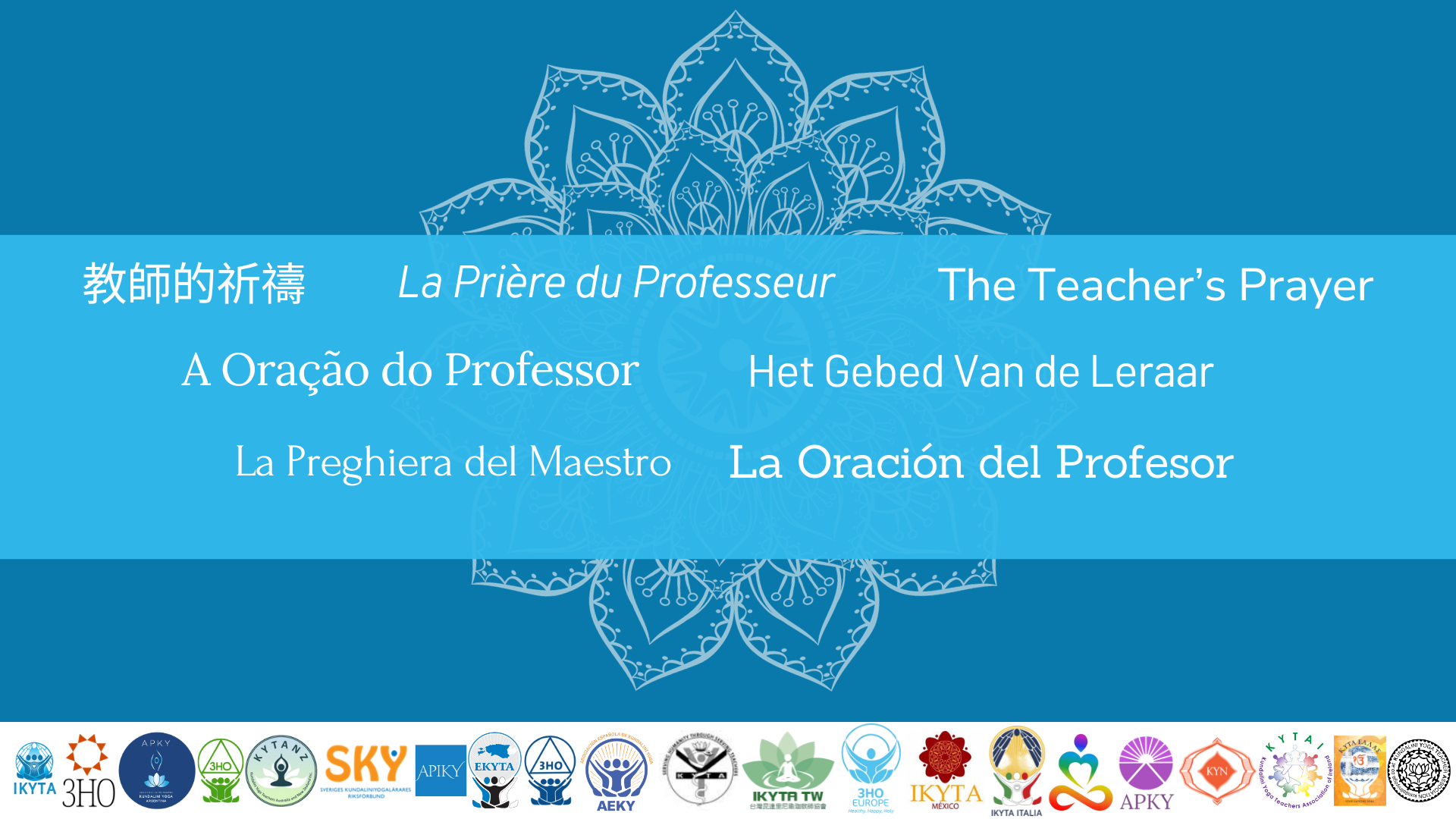 At the International Kundalini Yoga Teachers Association (IKYTA), we believe in the power of unity, diversity, and spiritual connection. That's why we invite you to join us for the "Teacher's Prayer," a remarkable online monthly meditation gathering designed to bring Kundalini Yoga Teachers from around the world together. This unique event is an opportunity to join hands in prayer, practice, and meditation, transcending geographical boundaries, languages, and cultures.
What is the Teacher's Prayer?
The Teacher's Prayer is a sacred online gathering, hosted by a different National Association each month, and held every last Sunday of the month. It is our heartfelt offering to the global community of Kundalini Yoga Teachers. This event began in December 2020, driven by the idea of harnessing the transformative power of collective prayer. By uniting in meditation, we aim to uplift and expand the collective consciousness of the Global Sangat. The Teacher's Prayer is a time zone and translation-sensitive event, ensuring that everyone can participate, no matter where they are in the world.
What Makes the Teacher's Prayer a Unique Experience?
Celebrating Diversity: The Teacher's Prayer is a platform where we celebrate the diversity of languages, cultural backgrounds, geographical locations, and time zones within the global Kundalini Yoga community.
Heart-Centered: This event places the service and offering from the heart at the center of the co-creative process. It invites us to come together from a place of Oneness and love.
Profound Meditative Experience: Participants get to experience a profound meditative journey guided by random teachers, some of whom you may not have encountered before.
Joy, Contentment, and Gratitude: The host country's prayer, mantra chanting, and meditative practice inspire joy, contentment, and gratitude, creating a ripple effect to be shared with our local communities.
Unique Expressions of Kundalini Yoga: The event showcases different ways of expressing Kundalini Yoga guidance and practice, all rooted in the purity of the teachings and embracing the natural, unique expression of the Divine in each of us.
Global Recognition: Teachers from the host country have the opportunity to be seen by the global Kundalini Yoga community and be acknowledged in their local leadership role as representatives of these transformative teachings.
Sense of Belonging: The Teacher's Prayer provides a sense of belonging to a wider community, where geographical, cultural, and language differences are not obstacles but strengths that enrich our practice and consciousness.
Who is Invited to Attend the Monthly Event?
The Teacher's Prayer is open to every Kundalini Yoga certified teacher or teacher in training, regardless of their level of experience or expertise. As a global event, we understand the importance of embracing diversity, ensuring language accessibility, and accommodating different time zones. To meet these challenges head-on, we alternate time zones every other month and offer all materials in at least seven languages: Spanish, English, German, Portuguese, French, Italian, and Chinese.
---
October 2023 Teacher's Prayer
Join us on the last Sunday of each month as we come together in prayer, meditation, and unity. The Teacher's Prayer is an opportunity to be part of a global Kundalini Yoga community and experience the transformative power of collective consciousness. Embrace diversity, celebrate unity, and join us for the next Teacher's Prayer event.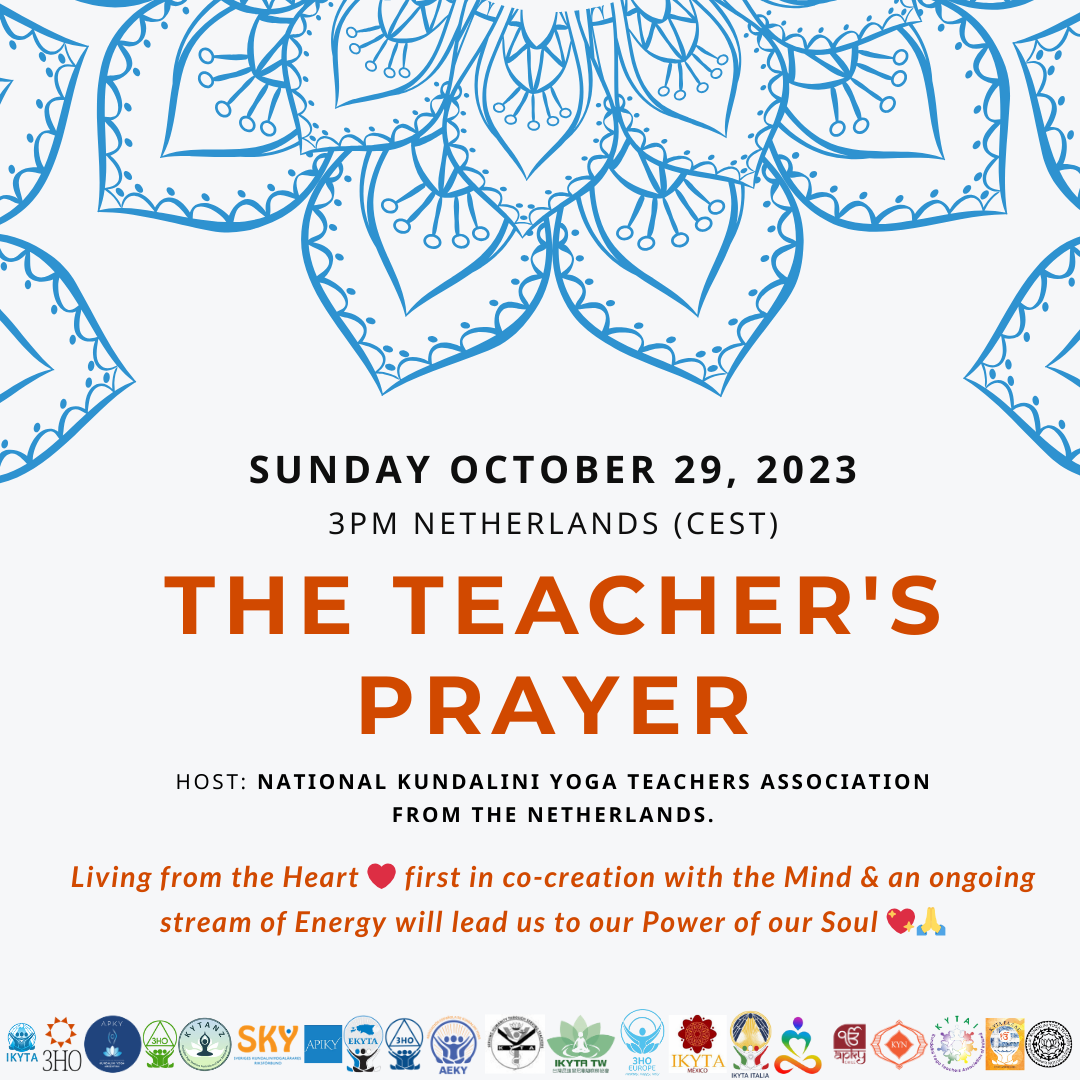 Join us for the October 2023 Teacher's Prayer Event! Hosted by the National Kundalini Yoga Teachers Association from the Netherlands, this special gathering will take place on Sunday, October 29, 2023, at 3 PM Netherlands (CEST) time.
This month's theme is all about "Living from the Heart," and our inspirational quote is a guiding light: "Living from the Heart ❤️ first in co-creation with the Mind & an ongoing stream of Energy will lead us to the Power of our Soul 💖🙏."
We'll dive into a transformative Pranic Meditation (LOT here), designed to elevate your consciousness. Don't miss this opportunity to connect with the global Kundalini Yoga community and explore the power of heart-centered living. We look forward to sharing this sacred journey with you.