Mukta Kaur Khalsa (Mukta Khalsa)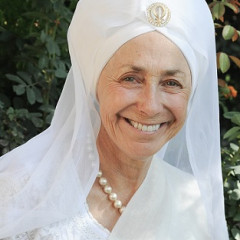 Mukta Kaur Khalsa (Mukta Khalsa)
Mukta Kaur Khalsa, Ph.D. is the director of SuperHealth and personally trained with Yogi Bhajan for thirty years. She was the director of a specialized hospital in Tucson, AZ, that was rated in the top 10% of all programs in the United States by the Joint Commission on Accreditation of Healthcare Organizations. Since 1973, SuperHealth® has been on the cutting edge of behavioral health and addiction recovery. It is a perfect blend of the ancient yogic wisdom of the East with the innovations of the West. This supports one to move from recovery to self-discovery. The system combines core technologies of Kundalini Yoga, meditation, breathing, nutrition restoration with specific therapeutic juices, vitamins and herbs as taught by Yogi Bhajan. www.super-health.org
• SuperHealth® is the only CEU Provider integrating yogic science into medical community for recovery.
• SuperHealth® is an NGO (Non-Governmental Organization) recognized by United Nations.
• Economic & Social Council of the United Nations (Approved).
SuperHealth® is approved by the National Certified Commission as an Educational and Training provider and awards CEs to addiction professionals and counselors by NAADAC (#103382), California Board of Behavioral Sciences (CAMFT) for MFTs, LCSWs, LPCCs & LEPs (#131565), Yoga Therapist (IAYT), Yoga Alliance, Physical Therapist, New Mexico Counseling and Therapy Board for 40 CEUs and American Holistic Nurses Association (AHNA) approval to award 40 Contact Hours (#1439).
Teacher Certification


Trainer Designations
Level 1: Professional, Level 2: Professional
Teacher Interest Areas
Addiction, Mantras & Naad, Meditation, Mental Health, Sikh Dharma, Women