Hari Kaur (Ann Ritter), PhD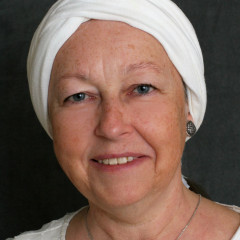 Hari Kaur (Ann Ritter), PhD
A devoted follower of Kundalini Yoga and Meditation for more than 30 years, I have completed the Master's Touch as well all Levels II and III certification through the Kundalini Research Institute. Human systems, with emphasis on somatics, phenomenology and communication leadership, represents the core of my doctoral studies. My classes are suitable for beginners and advanced students/practitioners, and a mix of genders.
Specialties are yoga for women (especially for the menopause years); yoga for your back; the intersection of Kundalini and Pilates; seniors/chair yoga; and trauma protocols (Kundalini yoga therapy module).
I am certified and have taught yoga for pregnancy and preparation for child birth, and yoga for young people and children, and have completed Krishnaa Kaur's training in Yoga for Youth; I also have a yoga-for-business protocol that uses Kundalini Yoga and Meditation to help reduce public speaking anxiety for those for whom English is a second language (ESL).
Through the Institute Association of Yoga Therapists, I also am certified for one-on-one and couples work, and I have studied Sat Nam Rasayan, the Kundalini healing modality. I gratefully enjoy my work with individual with clients in addition to teaching classes.
Teacher Certification


Trainer Designations
Level 1: Associate
Teacher Specialties
Business, Children, Elderly, Meditation, Mental Health, Pre & Postnatal, Sat Nam Rasayan®, Women