Gururas Kaur Khalsa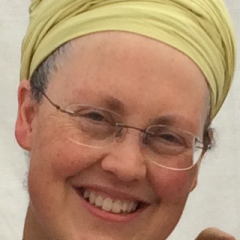 6420 N Central Ave
Seminole Hts Community Acupuncture
United States
Gururas teaches Kundalini Yoga and meditation classes, and is a certified Kundalini Yoga Instructor. A native Floridian, Gururas lived for six years in Massachusetts at the Guru Ram Das Ashram in Millis, taking and teaching yoga classes, doing Sadhana, participating in Gurdwara, and in the power of intentional Kundalini community. Gururas is an Acupuncture Physician and herbalist, who directs a community acupuncture clinic in Tampa, Florida. In addition to acupuncture and yoga, she is a certified childbirth educator and labor assistant (doula) and has provided support to many women and their families before, during and after childbirth. She was an apprentice midwife and trained with senior midwives to provide care in both birth center and home births.
Gururas teaches from the heart and meets yoga students where they're at -- both in mind and body. She teaches to empower and enable students to lead lives with conviction and excellence through connection with the Divine.
She who meets her Beloved in her heart, remains united; this is truly called Union.
As much as she may long, she shall not meet the Divine through mere words. ||7||
As metal melts into metal again, so does love melt into love.
By Guru's Grace, this understanding is obtained, and then, one obtains the Fearless Lord ||8||
Siri Guru Granth Sahib, 725
Studios/Centers
Teacher Certification

Teacher Interest Areas
Addiction, Disabled, Health Practitioners, Mantras & Naad, Meditation, Pre & Postnatal, Prisons, Sikh Dharma, Women