Darla Hueske (Dev Dharam Kaur)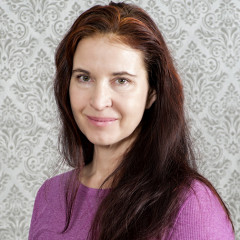 Darla Hueske (Dev Dharam Kaur)
Darla Hueske has been practicing yoga, and specifically Kundalini Yoga as taught by Yogi Bhajan, since 1993.
Since 2007, Darla has been teaching Kundalini Yoga throughout Egypt. AKA Dev Dharam Kaur, Espanola.
In 2000, she moved to Espanola to learn directly from Yogi Bhajan, master of Kundalini Yoga. In April 2000, she received her Instructor certification from Yogi Bhajan. Since then, she has taught Kundalini yoga in studios from New Mexico to New York, to Mexico and India.
In 2007, she left the ashram in Espanola and moved to Cairo, Egypt and began teaching yoga and meditation in greater-Cairo.
In 2009, she was accepted into the Aquarian Trainer Academy with International Kundalini Yoga Teachers Association (IKYTA) to begin training as a Teacher Trainer.
Darla, along with Bhai Bibiji Inderjit Kaur and Gurumeet Kaur authored a book and video of yoga technology called "Create Inner Peace" to help people deal with Post Traumatic Stress. Darla incorporates these teachings into her classes. Since the 2011 Egypt Revolution, she has found these specific techniques to be more relevant and necessary than ever to help people cope and deal with their day-to-day lives.
Darla maintains a daily personal sadhana (practice) rising before dawn to practice yoga and meditation. She writes about yogic lifestyle, yoga and meditation on her blog.
Teacher Certification

KRI Teacher Trainer: Intern
Teacher Interest Areas
Addiction
Business
Health Practitioners
Men
Mental Health
Women