Keval Kaur Khalsa (Keval Khalsa)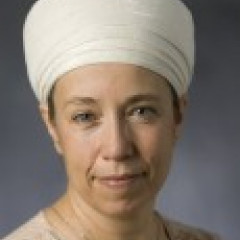 Keval Kaur Khalsa (Keval Khalsa)
Keval Kaur Khalsa, M.A., is a Lead Kundalini Yoga Level I Teacher Trainer, North Carolina Regional Coordinator for Y.O.G.A. for Youth, and Professor of the Practice in Dance and Theater Studies at Duke University, where she has been on the faculty for 26 years. Keval Kaur helped bring the first Level I Kundalini Yoga Teacher Training and Y.O.G.A. for Youth Teacher Training courses to North Carolina. She has taught yoga on three continents, and developed and currently teaches the course Kundalini Yoga and Sikh Dharma at Duke University. She has served on Level I Teacher Training teams in Detroit, MI, Chapel Hill & Asheville, NC, Nashville, TN, San Diego and Los Angeles, CA, and Accra, Ghana.
Weekly group classes in Durham, NC for all levels on Tuesdays, 5:30-7:00pm at her home studio - 1215 Carroll St, Durham, NC 27707.
Tele-class at Hearts Journey Wellness Center in Allendale, MI on Wednesday, July 20 from 7-8:30pm.
Level I Teacher Training course beginning in May, 2017 -- see kundaliniyogadurham.com.
Y.O.G.A. for Youth Regional Coordinator in North Carolina -- please contact Keval Kaur if you are in the Southeastern US and are interested in Y.O.G.A. for Youth.
Teacher Certification


KRI Teacher Trainer: Lead