Make this profile public:
active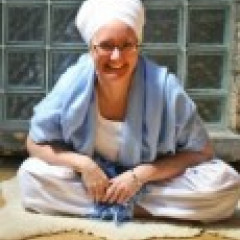 Name:
SS DukhNiwaran Kaur Khalsa, LMT, RYT-500
Languages You Speak:
English
Address:
Rogers Park
radiance yoga + wellness
United States
Interest Areas:
Health Practitioners, Mantras & Naad, Meditation, Mental Health, Sikh Dharma, Women
Biography:
My journey started like our journeys do, by stumbling into a Kundalini Yoga class and falling in love with it. That was over 20 years ago. Since then, my world expanded and opportunities to live authentically were laid in front of every step on my path. I became a therapeutic bodyworker helping people with mental illness and trauma reconnect to their souls through their bodies. I attended as many Kundalini Yoga courses, workshops, White Tantrics and Solstices as possible. Just when the intention to find service through leadership came out of my mouth, the opportunities were there. I became a Professional Teacher Trainer, managed Hospitality at Solstices, took Sikh Minister vows and serve our LGBTQ community through awareness and inclusion work in Khalsa Council, 3HO and KRI. I am moving into my career as a psychotherapist bringing yogic, embodied spirituality into mental health treatment. I love the teachings of Kundalini Yoga and the radiance, deep connections and love they bring.



Trainer Designations
Level 1: Professional