Make this profile public:
active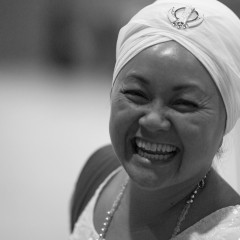 Name:
Haridass Kaur Khalsa, PhD
Languages You Speak:
English
Interest Areas:
Health Practitioners, Meditation, Mental Health, Sikh Dharma, Women
Biography:
Haridass Kaur Khalsa, PhD is a KRI Mentoring Lead Trainer who is classically trained in energetic bodywork, shiatsu, and yogic/western anatomy. She specializes in bringing more power into the human system through prana and movement to release blocks, clear old thought patterns, and dissolve addictions. She teaches with precision and is known for her thoroughness and charisma.
She leads a dynamic international team of KRI certified trainers and is a builder of communities through Kundalini Yoga and the Teachings of Yogi Bhajan and Sikh Dharma. She is a registered Sikh Minister and invites everyone to selfless service at Los Angeles Baisakhi every April at the Los Angeles Convention Center. She is deeply motivated as a Mentoring Lead Trainer ,personally taking time to cultivate the needed skills and subtlety of each trainer to make them 10 times greater.
Her Teacher Trainings to the underserved communities in Mexico, Chile, Peru, and Bali. She is the founder of Infinite Goddess, a thriving webshop selling Kundalini Yoga technology goods, jewels, music and Tantric Necklaces. She frequents the Yoga Festivals including 3HO Summer, Winter, and European Yoga Festivals, Shaktifest, Bhaktifest, and Sedona Yoga Festival.
2018-2019
Level 1 trainings are in Victoria BC, Ubud Bali, and Oceanside, California. Level 2 Trainings are in Victoria BC, Oceanside, California, India, and Playa Del Carmen, Mexico.


Trainer Designations
Level 1: Lead, Level 2: Lead, 21 Stages of Meditation: Lead