Susan Kezios (Shakta Kaur)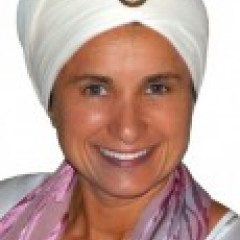 Susan Kezios (Shakta Kaur)
The Fine Arts Buildling
410 S. Michigan Ave., Ste. 514
United States
Shakta Kaur co-owns Kundalini Yoga in the Loop (KYL) in downtown Chicago with her husband, Hari Dev Singh. She travels and teaches extensively in both the USA and internationally. You may taken one of her classes at Summer or Winter Solstice Sadhana Celebrations over the years. If so, you know that she is a devoted, enthusiastic and inspirational teacher!

Shakta is a Level 1 and Level 2 Lead Teacher Trainer. She teaches Kundalini Yoga and Meditation, Teacher Training and Breathwalk® in both the USA and Canada. In fact, she is one of just three individuals in the US certified to train Breathwalk Instructors.

From 2004-2007 Shakta represented KRI on the Board of Directors of Yoga Alliance (YA) in the capacities of Secretary and Chair of the Board. She also served as YA's Interim CEO for eight months. Shakta also co-teaches the popular tele-class series, 'The Business of Yoga' once each year.

Shakta leads yatras to India where she teaches Kundalini Yoga and Meditation at the Punarnava Ayurveda and Yoga Conference. Shakta's next yatra to India is scheduled for Nov.-Dec. 2015.
Join Shakta for Level 1 Kundalini Yoga Teacher Training in Chicago beginning Jan. - Aug. 2014. Or, come to Prince Edward Island (PEI), Canada, for a special two session (Spring & Fall 2014) Level 1 course.
PEI will also welcome Shakta back for a 2nd Level 2 course in May 2014 (Life Cycles & Life Styles).

Shakta has two DVDs, 'The Lunar Woman' and 'The Invincible Woman.' Once a year she teaches a popular tele-class/webinar series for Kundalini yogis, 'The Business of Yoga.'

A recognized expert in the field of U.S. franchising, Shakta (Susan Kezios) founded Women in Franchising, Inc. (WIF) in 1987 and the American Franchisee Association (AFA), a 501(c)6 non-profit, in 1993.
Teacher Certification


KRI Teacher Trainer: Lead
Teacher Interest Areas
Business, Mantras & Naad, Health Practitioners, Pre & Postnatal, Women