Make this profile public:
active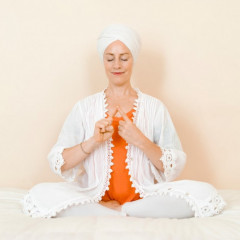 Languages You Speak:
English
Interest Areas:
Mantras & Naad, Meditation, Women
Biography:
Charanpal Kaur, M.A., carries the presence of a lioness; evoking creativity, illuminated heart energy, and the feeling of being by a campfire when she sings. As a student of the sacred sound current, chanting mantra is a visceral and potent daily healing practice for Charanpal. With three mantra albums to date, her last two releases, Jala (2017), and Aeons (2015), charted #3 and #4 on iTunes. Her first album, Simran Sadhana (2013) was produced by world-renowned cellist, Hans Christian. Charanpal is also a featured teacher for two international online yoga communities; Kundalini Lounge (London, UK) and Kundalini Live (Monterrey, CA). Yogis around the globe practice with Charanpal via her viral Youtube classes, such as The Keep Up Spirit. Charanpal has a master's degree in Spiritual Psychology and specializes in a form of Gestalt Therapy. Living in the redwoods of Santa Cruz with her husband, Ghansham Singh, whom accompanies her on percussion, her two cats, and four alpaca, she feels blessed to live the life of a householder with access to these powerful ancient yogic technologies taught by Yogi Bhajan.