Make this profile public:
active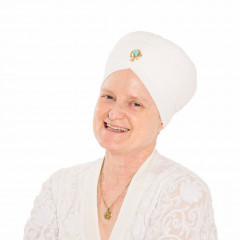 Name:
Awtar Khalsa (Awtar Kaur Khalsa)
Languages You Speak:
English
Interest Areas:
Pre & Postnatal, Sikh Dharma
Biography:
Awtar Kaur Khalsa has been living, studying, and teaching in Kundalini Yoga ashrams since 1972. She sat at the feet of Yogi Bhajan with a notebook, timer, and camera, prompting him to remark, "She has perfect notes." She is a mentoring lead trainer and has taught throughout the United States and overseas. Awtar uses generous doses of humor to inspire her students to expand. Awtar has been married over 30 years and has a daughter who is also a Kundalini Yoga teacher. She is the director of The Kundalini Yoga Center in San Francisco.


Trainer Designations
Level 1: Lead, Level 2: Lead, 21 Stages of Meditation: Lead