Make this profile public:
active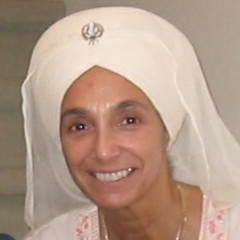 Languages You Speak:
English
Address:
Guru Ram Das Ashram
3527 Raines Lane
United States
Biography:
Rai Kaur Khalsa began her practice of Kundalini Yoga in 1972 in Newark, DE. She and Rai Singh were married by Yogi Bhajan at Winter Solstice in 1974 and opened the Guru Ram Das Ashram in Knoxville, TN in 1977. They have both been active yoga teachers there, as well as leaders in the Sikh community, hosting Gurdwara in their home for more than twenty-five years. Rai Kaur led the young women's program at the annual 3HO Women's Camp in Espanola, NM for many years, and she and Rai Singh together re-organized and led the teen program at Summer and Winter Solstices for over a decade. They have also been guest teachers at Miri Piri Academy in Amritsar, India, as well as several venues in the U.S. They have two grown daughters, Gururas Kaur and Karta Purkh Kaur. Gururas was married to Knoxville native, Siri Datar Singh in March 2008, and they have blessed Rai Kaur with two beautiful grandchildren. Twice yearly Solstice participation has always been, and continues to be, a deep priority for all three generations.
When Rai Kaur is not busying herself with ashram and family activities, she and her husband run the Fountain City Animal Hospital in Knoxville, TN, where he is the business manager and she is the head veterinarian.