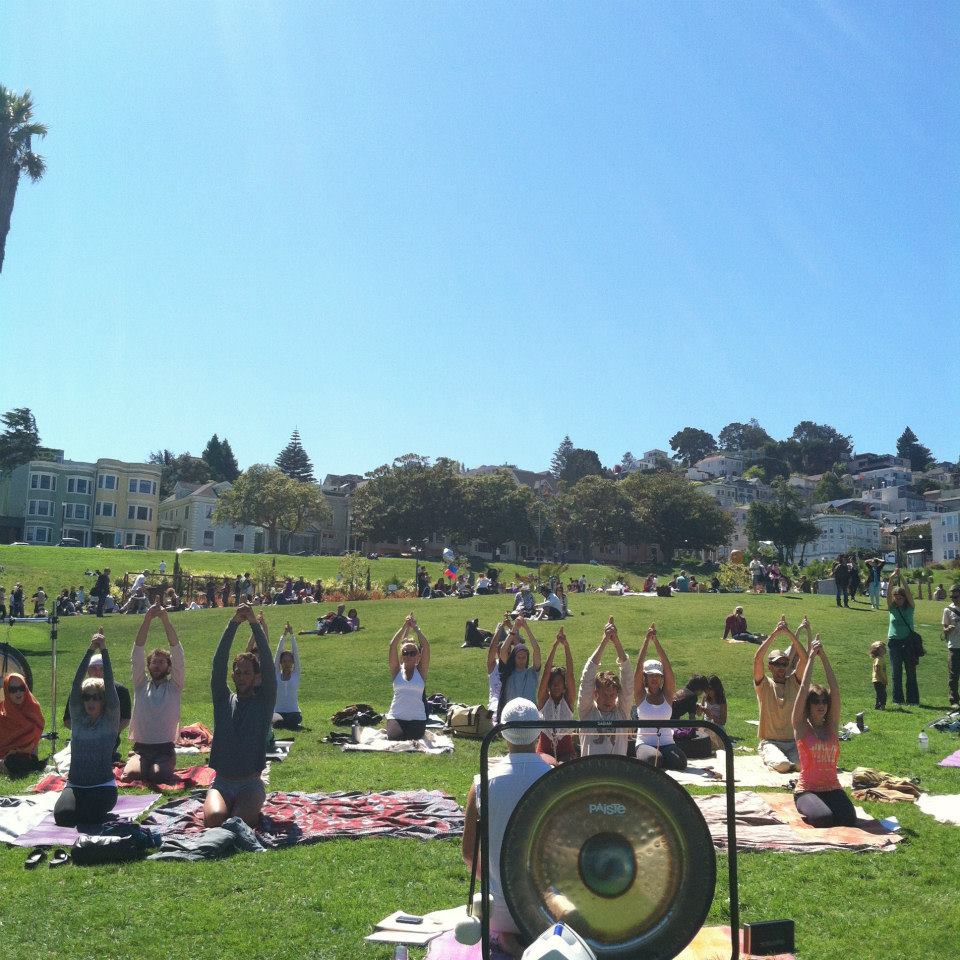 The Kundalini Co-op is the first California worker owned yoga cooperative.  We designed the cooperative to create and support community through yoga classes and events in a sustainable manner for ALL individuals.  It is our hopes that more worker-owned yoga cooperatives follow across the world to make the TRUE art of yoga affordable and accessible to ALL individuals.
In 2009 I moved from Los Angeles to San Francisco. The change of cities was welcome and what an incredible city to move to! Yet there was something most definitely lacking...... a thriving Kundalini community such as the one I had been a part of in Los Angeles. To quench this desire for more community I met with Stephen Fernandez, Siri Sadhana Kaur and Dharam Deep, the other practitioners in the area, and we began a project to get out in the public view and share Kundalini Yoga in the Bay Area. We started a women's group, a men's group, and the "Kundalini Flash Class"! The idea for the flash class was inspired by the flash mobs that were, and still are quite popular here in the SF Bay Area. We decided to maintain a full-length class format and hang out afterwards so it was not exactly true to the "flash" idea, but we had lots of fun none-the-less. We began holding flash classes in different parks around San Francisco, and some in Berkeley and Oakland too, right around the time of the occupy
movement. Some of the more memorable locations were: Hippie Hill in Golden Gate Park, the Hayes Valley urban farm just days before it was uprooted for new development, the Westfield Mall on Black Friday, Crissy Field in the Marina with a stunning view of the Golden Gate Bridge, Lake Merrit in Oakland, the UC Berkeley quad, and Dolores Park in the Mission District where the class drew over 50 people! And of course we had at least one gong at each class.
It was all a lot of fun and we were encouraged by the great turnout for the Dolores Park class, so we decided to continue holding classes there on the first Sunday of every month. To engage our 3HO community and get more KY teachers involved we scheduled rotating pairs of teachers, both veteran teachers and those fresh out of teacher training. Stephen Fernandez, one of the local teachers and community organizers, had the seed inspiration for a yoga organization in which everyone works together and owns part of the organization: a worker owned yoga cooperative! And with this combination of focused energy and events the Kundalini Co-op was born.
The Kundalini Co-op has two mottos: "All for One, and One for All" and "Keep UP!" We all definitely do our part, and with the pressures of life it has most certainly taken some keeping up and covering for one another when life gets busy. But for the last 5 years we have been growing, collaborating and working together on this labor of love to create an ever more vibrant and connected Kundalini-3HO Community here in the SF Bay Area. Presently we have 8 active teaching members, each with classes in San Francisco and monthly duties to support the Co-op.
The Kundalini Co-op offers yoga classes, workshops and community gatherings all with the ultimate goal of spreading the teachings of Kundalini Yoga as taught by Yogi Bhajan as well as other types of yoga, creating more yogic community and, of course, having fun while elevating consciousness. Classes are currently held in parks, at premiere yoga centers in SF and at Guru Ram Das Ashram in Haight Ashbury (where you can get the best cup of yogi tea in the business!). We are continually looking for more ways to connect, engage and serve our local sangat as well as the worldwide community. If you are ever in the SF Bay area please look us up and come join a class or even teach in one of our Yoga in the Park classes.
Find the Kundalini Co-op online!
Website: www.kundalinico-op.com
FB: www.facebook.com/sfkundalinicoop
All the best from SF and we hope to connect virtually or in person!!
In Gratitude & Service,
Sat Nam,
Seva Simran Singh