Date (Mountain Time):
Wednesday, December 4, 2013 - 6:30pm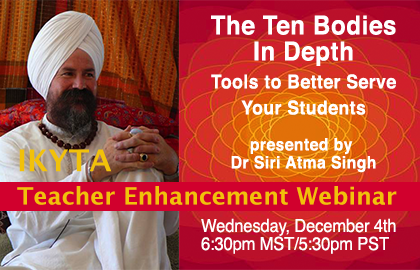 Dr. Siri Atma reveals the profound subtleties of Yogi Bhajan's Ten Bodies material: How does Kundalini Yoga affect the soul and change your destiny? How can you tell the difference between the voice of the soul and the ego? How do you explain the healing essence of Kundalini Yoga to your students? As teachers of Kundalini Yoga, knowing and using this information is vital in helping your students progress on the spiritual path.
Dr. Siri Atma Singh is an Internist who served as Yogi Bhajan's personal physician. He is the author of a Kundalini Yoga book on the Ten Bodies, Waves of Healing: Listening to the Voice of Your Soul, available at www.DrSiriAtma.com.
Watch the Replay here: https://3hokundaliniyoga.webex.com/3hokundaliniyoga/lsr.php?AT=pb&SP=EC&rID=7879937&rKey=0c9c6bcced68596e