Speak, Create, Initiate – Teacher Excellence
Date (Mountain Time):
Wednesday, November 13, 2013 - 5:00pm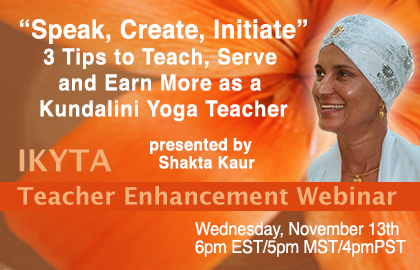 Watch the replay here: https://3hokundaliniyoga.webex.com/3hokundaliniyoga/lsr.php?AT=pb&SP=EC&rID=7776977&rKey=a14b404fd7e6b5f8 
Becoming a better teacher (of any holistic practice) is no mystery.  But, how do we go about it so that we can consistently teach more, serve more and earn more? 
Follow along as Shakta helps you create your personal business plan for success.
Three elements are needed:  1) the alertness to recognize opportunities; 2) the ability to speak about your plans; and 3) taking initiative with action!
In this session Shakta helps tie your 'vision' with your 'mission' as a teacher.  You'll identify your 'objectives' and 'strategies.'  And finally, you'll link your 'plans' so that you will achieve your desires ... all in a simple 1-page format.
It will be amazing to watch the seeds you plant on this webinar as you 'speak, create and initiate' your ultimate goal and destiny!

Shakta Kaur owns Kundalini Yoga in the Loop (KYL), Chicago, Illinois, USA.  She is a Level 1 and Level 2 Lead Teacher Trainer and a Breathwalk Instructor Trainer.  Shakta teaches both in the USA and internationally.  She'll lead her 5th yatra to India in late 2015.
From 2004-2008 Shakta represented KRI on the Board of Directors of Yoga Alliance (YA) in the capacities of Secretary and Chair of the Board.  She also served as YA's Interim CEO for eight months.
Shakta has two DVDs, 'The Lunar Woman' and the 'The Invincible Woman.'  A recognized expert in the field of U.S. franchising, she founded Women in Franchising, Inc. (WIF) in 1987 and the American Franchisee Association (AFA), a non-profit, in 1993.
Shakta loves coaching new teachers on all matters related to their personal and professional growth.
______________________________
Shakta Kaur
Kundalini Yoga in the Loop (KYL)
The Fine Arts Building
410 S. Michigan Ave., Suite 514
Chicago, IL   60605