Kundalini Yoga to Help People with PTSD
Date (Mountain Time):
Wednesday, April 10, 2013 - 5:30pm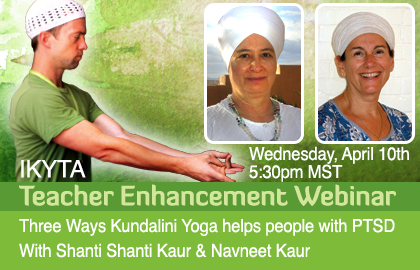 No matter what the cause of trauma, movement through Kriya, Breath and Mantra are time-tested approaches effective in helping people reconnect with their body, reduce symptoms and provide the support to move from a state of reactivity to an experience of safety and calm.
Members Only Area
You've reached a page that is only viewable by IKYTA members.
Become an IKYTA member
Members get full access to all content on the IKYTA website, are listed in the Teacher Search directory, and many more benefits.