Humility: A Story about learning from Yogi Bhajan
Date (Mountain Time):
Tuesday, August 20, 2013 - 5:30pm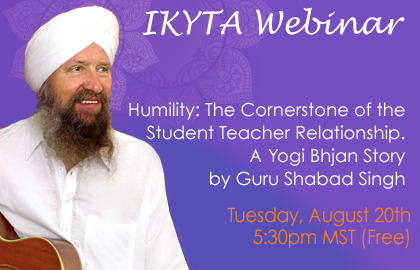 Guru Shabad Singh, who is best known for his music (Sa Re Sa Sa, Pavan Pavan, Ajai Alai, etc.), had an extended, life long experience directly with the Master Yogi Bhajan on the topic of Humility.
Members Only Area
You've reached a page that is only viewable by IKYTA members.
Become an IKYTA member
Members get full access to all content on the IKYTA website, are listed in the Teacher Search directory, and many more benefits.