Humility: A Story about learning from Yogi Bhajan
Date (Mountain Time):
Tuesday, August 20, 2013 - 5:30pm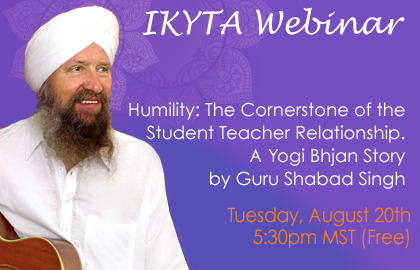 Guru Shabad Singh, who is best known for his music (Sa Re Sa Sa, Pavan Pavan, Ajai Alai, etc.), had an extended, life long experience directly with the Master Yogi Bhajan on the topic of Humility.  He will share his very moving and uplifting story about the humility that exists between and student and a spiritual teacher.  These lessons will most definitely apply to, and effect how you teach yoga to your students.  The lessons of humility changed the way Guru Shabad teaches yoga and he hopes (with all due humility), to impart to you, the understanding, practice and feeling of this most basic of all concepts - Humility.