Three Ways Kundalini Yoga Helps People with PTSD
with Shanti Shanti Kaur and Navneet Kaur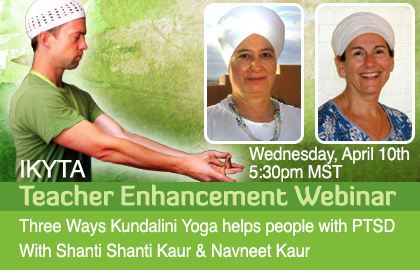 Wednesday, April 10th at 5:30pm MST
You can access the recording at this link:
https://3hokundaliniyoga.webex.com/3hokundaliniyoga/lsr.php?AT=pb&SP=EC&rID=6685562&rKey=acb6052c5413f990 
No matter what the cause of trauma, movement through Kriya, Breath and Mantra are time-tested approaches effective in helping people reconnect with their body, reduce symptoms and provide the support to move from a state of reactivity to an experience of safety and calm.
Because trauma is held in the body, the impact is far reaching, but the healing can be too. That's what makes the practice of Kundalini Yoga such an important component of healing trauma. 
This webinar will identify the indicators of PTSD and 3 components necessary for recovery.
You can find the meditation"Elementary Adjustment of the Brain" here