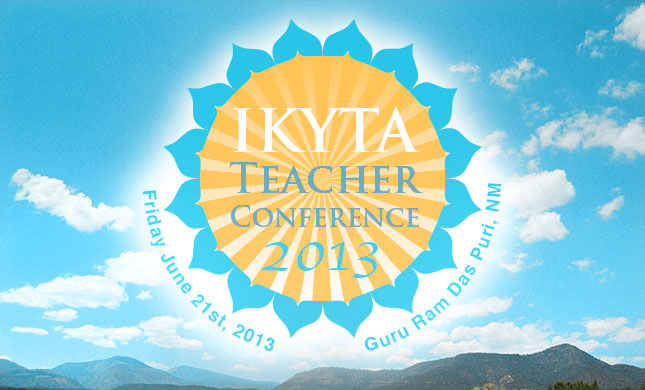 IKYTA invites all Kundalini Yoga teachers and teacher trainers to participate in the 2013 Summer Teacher Conference in New Mexico.
Friday, June 21st from 10:30-5:30
We are in the 4th year of the Eight Elements of Excellence Series. In 2013 we focus on HUMILITY—the constant awareness of the ONE Doer in all actions. Having the courage to surrender to the Golden Chain, we will feel Infinity serving with us! It is in releasing our ego and connecting in compassion that we are truly able to serve effectively.
Come and share in this beautiful opportunity to sit with your fellow Kundalini Yoga Teachers from around the world for a day of being together, learning together and learning from each other!
 "One Power, One Actor, One Doer One Knower, O Nanak, no one is higher or lower." 
- Japji Sahib
"It is very fortunate you have this Association. When I'll be physically gone, search me out spiritually. You'll need to sit together to do it."
-Yogi Bhajan
 Part 4 in an an eight-part series based on Yogi Bhajan's Eight Elements of Excellence
The Vision – to see your goal and keep it in your consciousness
The Courage – to attempt it and to keep up
The Grit – to go through it
The Humility – to know who the Doer is
The Knowledge – to substantiate it
The Prayer – to feed it
The Grace – to carry yourself through it
The Determination – to achieve it
Presenters
 Guru Singh
"Come to the IKYTA Teachers Conference to be with your peers – meeting, greeting, 
sharing and learning together.  We can grow together through intergenerational dialogue.  Take home tools to help you continue developing your excellence as a Kundalini Yoga Teacher.  Join us!"
-Guruka Kaur
"Teachers helping teachers--that's what the annual 3HO IKYTA Teachers Conference is all about!  It 
doesn't matter whether you'vejust graduated from Teacher Training or you graduated decades ago  You always leave with new tools to jump-start your teaching, to re-start teaching, to augment your teaching--to spread the teachings.  We have been given all the tools we need from the Master, Yogi Bhajan.  So, come to the Tantric Shelter on Friday, June 21st, and do your part.  The guarantee is that you'll re-invigorate yourself and your teaching!"
-Shakta Kaur
"Before I ever worked at 3HO, attending the IKYTA conference at Summer Solstice was a priority for me. Teaching Kundalini Yoga is a big part of my destiny and the support, 
ideas, connection and solidarity I feel at IKYTA conferences gives me the juice to broaden my vision, the desire to strengthen my teaching skills, and the encouragement of new ideas shared by all of my fellow community of teachers. It's a must for Kundalini Yoga Teachers of all levels!"
-Gurudev Kaur (3HO Marketing Director) 
"Y
ou must understand one thing: I have sacrificed what I could have achieved personally for one game only: to create teachers in the West. My sharing of this yoga is to teach humans the ultimate science of mankind. It is priceless. It is the concentrated essence of thousands of years of humanity. I am here to preserve it in your hearts so that it will be available later on when humanity will need it more badly than you or I can imagine
.
"

-Yogi Bhajan, 
Praana Praanee Praanayam
, p. 219